Public folders are email and groupware folders that are not assigned to one person, but are shared by multiple or all users of a company. In the Intra2net system, this concept is implemented by creating an additional, normal user account and folders are shared from this account via user groups.
For example, "info" can be used as the name for a user account used by all users, otherwise names matching the group, such as "sales" or "service".
Within this user account, subfolders with any folder type (email, calendar, contacts, tasks,...) can be created. In addition to a general email mailbox, you can also create a vacation calendar, manage resources such as meeting rooms or service vehicles, maintain customer addresses, maintain employee contact data, and so on.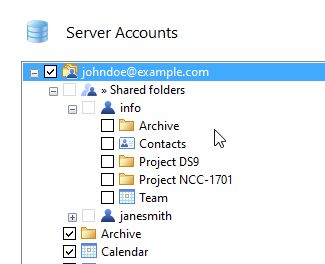 Proceed as follows to set up public folders:
Create a new user account on the Intra2net system in the menu Usermanager > Users. For details see Section 14.2, "User".

If you don't want all users to have equal access rights to the public folders, create one or more user groups in the menu Usermanager > Groups and add the appropriate users as members.

Create an additional Outlook profile on a PC to manage the public folders. Proceed as described in 20. Chapter, "Setting up a Profile". Use the access data of the user account that was just created.

Start Outlook with the newly created management profile.

Create the desired folders in Outlook and share them with the desired user groups as described in Section 22.1, "Sharing Own Folders".

Individual users can now link the just shared folders in their Groupware Client as described in Section 22.2, "Linking Shared Folders".