Intra2net Security Security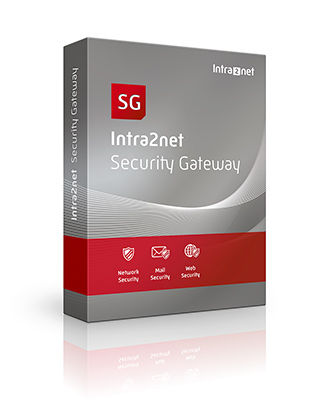 What counts for us is productivity, especially when it comes to our EDP. Therefore, we were immediately convinced by the performance and the fair licensing model of the Intra2net Security Gateway.

Dennis Uebelgünne, Schneider & Rüseler GmbH
Find a Sales Partner now
Complete Protection for your Network
Features
Shared Internet access via DSL, fiber or leased line
Network Security: Multi-level firewall and secure VPN
Web Security: Web access control, antivirus and comprehensive statistics
Mail Security: Powerful spam filter, antivirus and ransomware protection
Perfect interaction with Exchange Servers
Email archiving interface
Advantages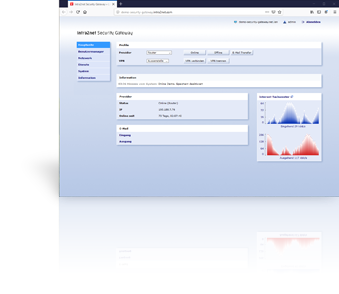 A gateway security solution for businesses from 5 to 250 employees
All features can be easily managed via a web-based user interface
Hardened Linux operating system
Significant reduction of administration and maintenance costs
Comprehensive Internet access protection
Intuitive browser-based operation
Software and support in German and English
Quick installation and easy administration
Protect your Network
Intra2net Security Gateway is an economical solution that provides you with effective protection against the daily onslaught of viruses, spam and ransomware from the Internet. Complete with Internet access, firewall and VPN access for secure connection of branch offices and mobile employees.
Secure Email Communication
All incoming emails are proactively cleaned from current threats by the Intra2net Security Gateway before they reach your mail server. Dangerous viruses are already filtered and the very high spam detection rate of over 99% significantly reduces the load on your mail server.
Controlled use of Websites
Time-based usage control for social media and websites: Determine what your employees can access. Central virus protection can stop dangerous content before it enters your network.
Freely Choose your Platform
The Intra2net Security Gateway is based on a security optimized Linux operating system and can be used as hardware, software or virtual appliance.

System Requirements
Intra2net Security Gateway Supported
License
Antivirus and anti-spam included
From 5 users, expandable at any time
Unlimited executable license
12 months software maintenance included