Intra2net Security Gateway - Features
NETWORK SECURITY
Firewall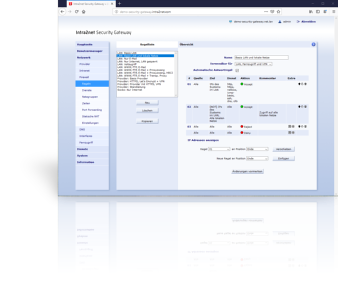 Maximum security through Stateful Packet Inspection, DMZ and DoS protection
Clear rule editor for services, netgroups and dependencies
Time-based filter rules, 1:1 NAT, Proxy ARP
Supports any number of network cards
Quality of Service for VoIP prioritization
VPN
Secure connection of mobile employees and branch offices
VPN wizard for easy setup
IPsec VPN with AES, PSK and X.509
Secure and fast WireGuard VPN*
Free WireGuard client for Windows and macOS and app for Android and iOS
* WireGuard VPN now available in public beta test. Please contact Intra2net sales for activation
WEB SECURITY
Web Filter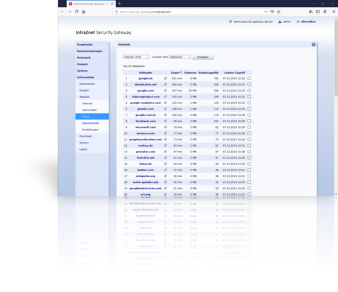 Protection against unauthorized content
Usage control for services such as Facebook, Youtube or Ebay
Control web access by URL, content and file type, lock and unlock lists and pre-defined filters
Filter by user or PC workstation
Web Antivirus for HTTP and FTP
Usage Control
Comprehensive statistics, four-eyes principle
Evaluation through log files and reporting
Data volume, users, websites, etc.
MAIL SECURITY
Antivirus and Anti-Phishing
Email antivirus for mail server
Criminal phishing email filters
Quarantine zone and reporting
Fully automatic, permanent updates
Antispam
Over 99% spam detection rate
False positive rate below 0.001%
Effectively reduces the cost of handling unsolicited emails
Recipient check via SMTP or ADS/LDAP for Exchange Server
Email Attachment Filter
Proactive protection against unknown malware
Filter by file type, such as EXE, DOC, XLS
Dangerous Office Macro Blocking
Email Processing
Scheduled email retrieval via POP3 and forwarding to a mail server
Email archiving interface for legally compliant archiving according to GoBD
Encryption for email dispatch and receipt via SSL/TLS
MANAGEMENT
Simple Web-Based Administration
Import and export of users
Monitoring via SNMP, log files and email reports
Data backup via HTTPS, SMB and FTP
UPS support against data loss
GDPR-compliant default settings
Get to know our Comprehensive Network Protection
Intra2net Security Gateway is available through our certified sales partners. They will be happy to make an individual offer, provide support during installation and offer ongoing maintenance and technical support.